Panels - mineral wool
Ceramic-based building materials have been replaced by sandwich panels for many years because of their ease of installation and fast installation light steel structures.
These products are made of practically combined construction and insulation materials. They are based on outer layers that have optimal mechanical and thermal properties. We offer roof and wall panels consisting of solid external and internal cladding (based on steel sheets) and a core based on mineral wool. In addition, the products have metallic and organic coatings on the inner and outer layers, increasing resistance to mechanical damage.


We offer sandwich wall and roof panels with different core thicknesses, including: 60, 75, 100 , 125, 150 mm. They are used for housing internal and external walls as well as partition walls. The products are used as a building material for industrial, sports, production and storage facilities.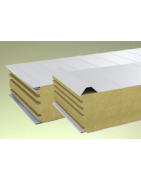 Subcategories
We sell products whose main structural element is mineral wool with good insulation properties. Wall panels available in our offer are characterized above all by simplicity in installation. They are also easy to use in lightweight steel constructions.

Galvanized sheet metal was used to make the cladding in our panels, which was additionally strengthened and protected with various varnish coatings. By using particularly good-quality mineral wool, we can provide high thermal insulation and fireproof properties, as well as tightness and strength of wall panels sold.

Wall sandwich panels are used both for creating internal as well as external and partition walls. Wall panels work well in many different types of facilities, such as sports and storage halls, as well as catering, administrative and social facilities. In this way, mineral wool as the core of sandwich panels is a protective thermal layer and a fire barrier.

One of the products that customers can choose in our store are roof sandwich panels, serving on one hand to improve thermal insulation and on the other to quickly roof the building structure.

We offer products that have different thickness of insulation layer from 60 mm up to 200 mm. The cladding of sandwich roof panels was made of galvanized steel sheet, which was connected to the panel core with polyurethane adhesive. The layered construction avoids significant heat losses, which are the source of the upper floors of the building, which are particularly exposed to the adverse effects of the atmosphere.

The building materials proposed by our company guarantee fire safety in a given time, which is very important in potentially dangerous moments for human life. Mineral wool is also a material with high sound insulation parameters. It is currently the most popular material next to PIR foam (Polyisocyanurate), which is widely used in construction to strengthen the thermal insulation of buildings and fire protection.