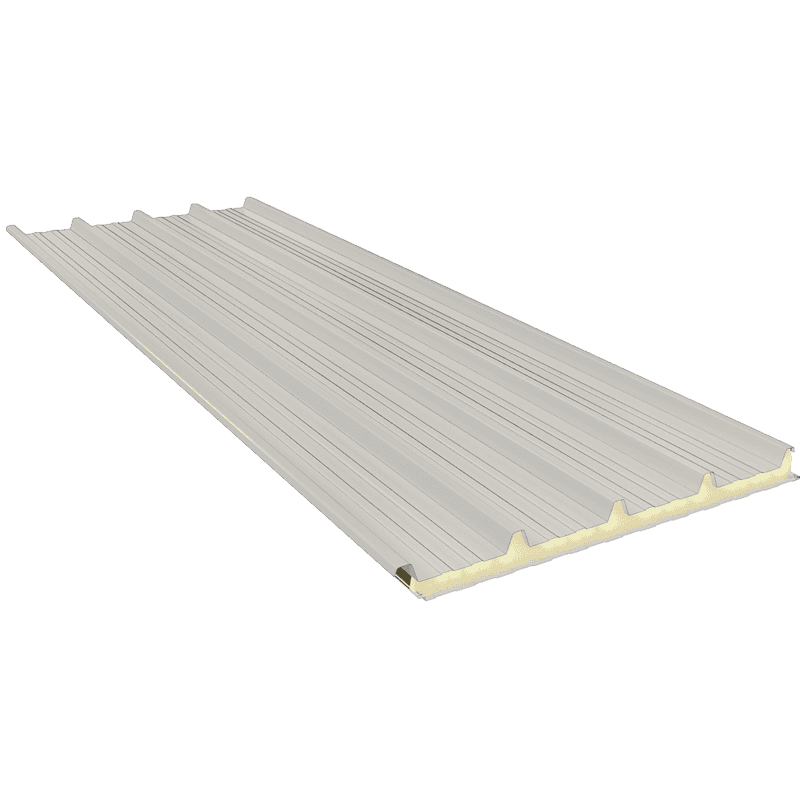  
G5 80 mm, roofing sandwich panels
PUR or PIR roof sandwich panels - G5.
Delivery
Terms and conditions
Security policy
Construction:
- The outer and inner cladding are made of galvanized steel sheet, coated with 25 µm PE (polyethylene) in a rich color palette.
- Cladding profiles: trapezoidal, grooved, linear, micro profile and smooth.
- The core is PUR rigid polyurethane foam, with excellent thermal insulation parameters, or PIR polyisocyanurate, with increased resistance to fire.
- Modular width 1000 mm.
Installation:
- Easy and fast thanks to the labyrinth lock, which at the same time plays the role of a good insulator and in addition to system accessories is simple to use.
Use of 80 mm thickness:
Sandwich panels of this thickness are intended for covering roofs with a slope above 7% for heated workshop buildings, storage rooms, unheated agricultural halls.

Data sheet
Core thickness [mm] -

80

Density of the core [kg/m2] -

38

Module [mm] -

1000

Maximum length [mm] -

14000

Minimum length [mm] -

2100

Weight [kg/m2] -

11,50

Type cladding -

steel sheet / steel sheet

Top cladding [mm] -

0,5

Lower cladding [mm] -

0,4

Heat transfer coefficient U (W/m2K) -

0,23

Reaction to fire (all uses) -

Bs3-d0

Impact of external fire -

Broof (t1)

Fire spread rate -

NRO

Acoustic insulation [dB] -

25 (1-3)
No customer reviews for the moment.