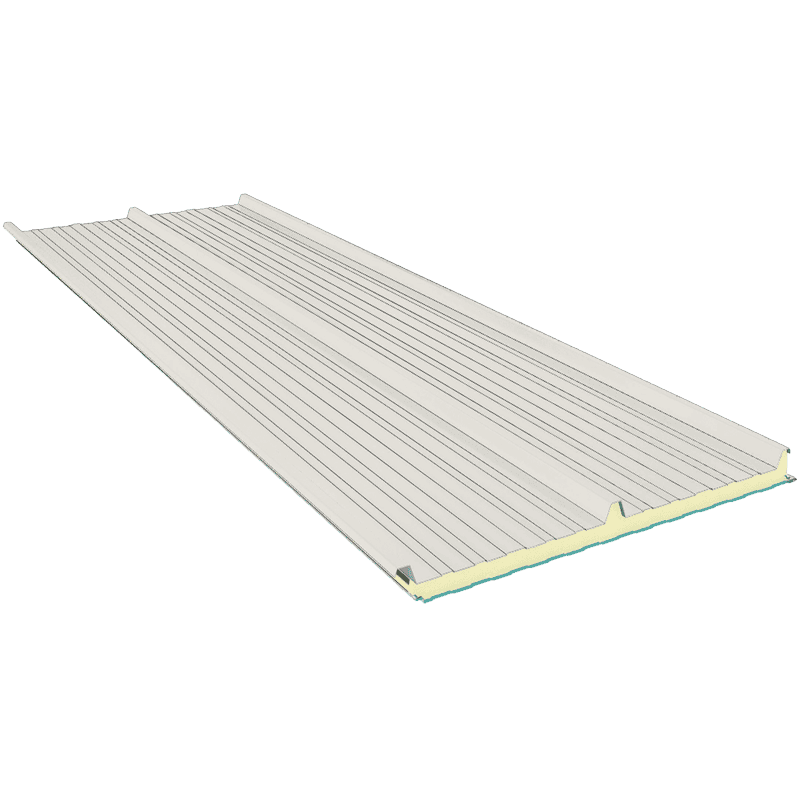  
G3 120 mm, roofing sandwich panels
PUR or PIR roof sandwich panels - G3.
Security policy
Delivery
Terms and conditions
Construction:
- The outer and inner cladding are made of galvanized steel sheet, coated with 25 µm PE (polyethylene) in a rich color palette.
- Cladding profiles: trapezoidal, grooved, linear, micro profile and smooth.
- The core of the sandwich panel is made of hard foam with excellent thermal insulation parameters. Depending on the needs, PUR polyurethane foam or PIR polyisocyanurate foam with increased fire resistance is used.
- Modular width 1000 mm.
Installation:
- Easy and fast thanks to the labyrinth lock, which at the same time plays the role of a good insulator and in addition to system accessories is simple to use.
Use of 120 mm thickness:
Sandwich panels with a thickness of 120 mm are intended for covering roofs with a slope of more than 7% for office buildings, public utilities, industrial buildings, workshops, storage, agricultural. They work well in buildings with increased thermal insulation requirements, maintaining a stable temperature inside the building. They can be used in cold stores that do not require low temperatures.

Data sheet
Core thickness [mm] -

120

Density of the core [kg/m³] -

38

Module [mm] -

1000

Maximum length [mm] -

14000

Minimum length [mm] -

2100

Weight [kg/m²] -

12,50

Type cladding -

steel sheet / steel sheet

Top cladding [mm] -

0,5

Lower cladding [mm] -

0,4

Heat transfer coefficient U (W/m²K) -

0,16

Reaction to fire (all uses) -

Bs3-d0

Impact of external fire -

Broof (t1)

Fire spread rate -

NRO

Acoustic insulation [dB] -

25 (1-3)
Specific References
MPN

G312005049002
6 other products in the same category: