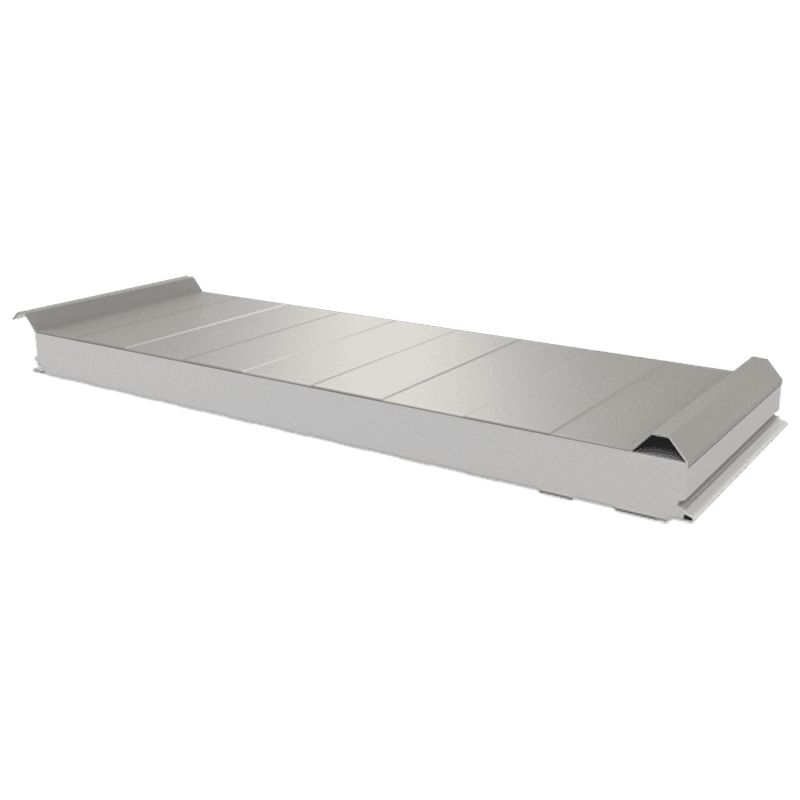  
PWD-S - 75 MM, Roofing panels, polystyrene
Roof sandwich panel, expanded polystyrene core.
Delivery
Terms and conditions
Security policy
Construction:
- The external and internal cladding are made of galvanized steel sheet, thickness 0.5 mm, covered with metallic and organic coatings.
- The core of the board is made of expanded polystyrene with a density of 16 kg / m3, combined with facings with two-component polyurethane adhesive, milled at the joint, which increases the insulation and tightness of the board.
- Cladding profiles: micro-wave V, micro-trapeze T.
- Modular width 1150 mm.
Installation:
- Easy and fast due to the lock, which acts as a good insulator and at the same time significantly affects fire tightness.
Use of 75 mm thickness:
Roof sandwich panels with a polystyrene core with a thickness of 75 mm are intended for unheated buildings with lower insulation requirements. The board is used to cover storage facilities and sheds in both industrial buildings and agricultural halls. The plate can be in a variant with 2 humps, as well as a plate with 4 humps. The selection of the number of humps depends on the density of plate supports, as well as the number of holes and holes in the roof.

Data sheet
Core thickness [mm] -

75

Density of the core [kg/m2] -

16,20

Module [mm] -

1150

Maximum length [mm] -

18000

Minimum length [mm] -

2000

Weight [kg/m2] -

9,06

Type cladding -

steel sheet / steel sheet

Top cladding [mm] -

0,5

Lower cladding [mm] -

0,5

Heat transfer coefficient U (W/m2K) -

0,51

Thermal Resistance - R [W/m2K] -

1,86

Anticorrosive coatings -

polyester gloss / matt, polyurethane, PVDF, zinc, aluzynk
No customer reviews for the moment.